Cinder by Marissa Meyer — 9781466800113 — ****
Genre: Young Adult; Science Fiction; Retelling
Time to Read: 3 Days
Publication Date: 3 January 2012
Short Summary:
Cinder seems like an ordinary girl, but she has a gift and a curse. Her gift: She's the best mechanic in New Beijing. She is so good, in fact, that the handsome and charming Prince Kai, himself, has asked her to repair one of his valuable androids. Her curse: She isn't 100% human. When she was a girl, she was in an almost deadly accident. In order to save her life, scientists turned her into a cyborg, replacing a hand and a leg with robotic parts and adding a computer interface to her brain. Unfortunately, by saving her life and turning her into a cyborg, they also turned her into a second class citizen. Now, Cinder lives with her legal guardian (neither care to use the term "Step Mother") and her step sisters, the haughty Pearl and the sweet-natured Peony, but she dreams of escaping and making a new life for herself somewhere where she can hide what she is and be free from scrutiny. She even has a plan, but when the plague and the hated and beautiful Lunar Queen comes to New Beijing, she finds her world turned upside down. Now Cinder, second class cyborg and mechanic, finds herself in love with a Prince and in a position to help him and his scientists save the world.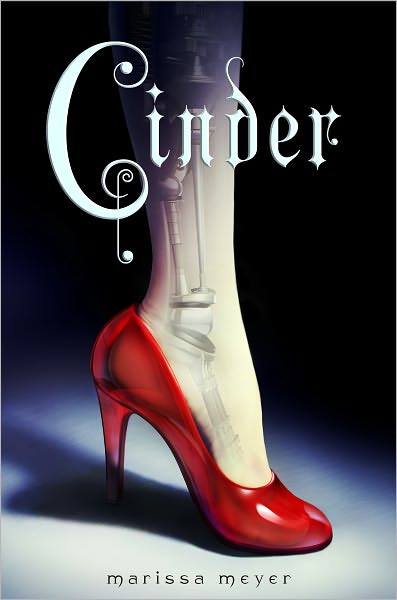 Cinder by Marissa Meyer is a cute retelling of the classic fairy tale Cinderella. This book is certainly literary popcorn: fun, light-weight, easy, and addicting. It is pretty predictable, but it's very well written and there are a few twists that go in different directions than I expected. I don't mind predictability too much, especially with a reinvention of a classic tale. Sometimes it's a nice break. I find I can just read and relax when I have some idea of what's going to happen. Cinder certainly let me do just that.
I loved the characters! The teen-aged mechanical mechanic, the handsome and kind prince, the somewhat crazy scientist, and the beautifully horrid Lunar queen. They're all wonderfully written. Cinder and the Prince are both perfectly sympathetic. The Queen is perfectly evil, making people believe she is good, even though she is rotten under the skin. I'm not usually much for the Disney-esque "Prince in love with the commoner who is out to save the world" plots, but this one is fun and well written. Definitely worth the read. I'm looking forward to the sequel!
I recommend this one to anyone who likes fairy tales and retellings, and I think I am safe to say that even an advanced younger reader (an eight to ten year old reading beyond her reading level) can enjoy this book. (Note: I hope the remainder of the series sticks to Cinder's style, but some teen series start off safe for young readers and gradually become more young adult as the series progresses. I will review the sequels as they come out and make comment on content, but parents my want to preview these books before handing them off to a child under the age of twelve.)
Check out Marissa Meyer's goodreads page!
Read it? Rate it!