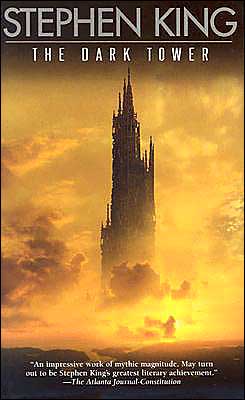 I'm not going to do a book-by-book review of this series because it's quite long and I was half-way through the final book when I decided to put this blog together. I don't know if it's on any summer reading lists (I doubt it is), but I can't resist writing a quick blurb about it.
The Books:
The Gunslinger – ISBN 9780452285692 – ***
The Drawing of the Three – ISBN 9780452284708 – ****
The Waste Lands – ISBN 9780452284715 – *****
Wizard and Glass – ISBN 9780452284722 – *****
Wolves of the Calla – ISBN 9780743251624 – *****
Song of Susannah – ISBN 9780743254557 – *****
The Dark Tower – ISBN 9780743254564 – *****
This is my first experience in reading Stephen King books. I wasn't 100% confident with my decision to read the series from the start. I've seen movies like It and The Tommyknockers, and enjoyed them thoroughly, but reading such books is different that watching movies. To me, the books are more real, because they're in your head and your imagination paints its own pictures. I've been told that Stephen King's books are a thousand times better than the movies based on them, and I was concerned that I wouldn't be able to sleep at night if I started in on this series. Friends who have read the series all assured me that The Dark Tower Series isn't as horror-filled as Stephen King's other works and makes a good introduction to his writing style. I decided to trust them and give it a try.
I was thrilled that I decided to read it. The series was, over all quite amazing! I have to admit that the first book was extremely hard for me to get into. I even nearly put it down (Something I almost never do). I was about half-way through when I told myself I'd read one more chapter, and if I still wasn't enthusiastic about it, I'd set it aside. That was when things started to get interesting.
From there, the series continued to get better. The second book was also slow to start, but once it got rolling, I couldn't put it down. The third book started with a rush, and the series became a wild train ride that I couldn't get off until the very end. Wow! Each book really is better than the last, and it's left me wanting to pick up more Stephen King books just because his writing style is so natural that you forget the characters aren't real and the world is just make-believe.
The Dark Tower Series is part western, part fantasy with a little bit of horror thrown in for good measure (a literary stew, Stephen King might say). I highly recommend it to anyone who is looking to get caught up in an epic adventure.
Check out Stephen King's website!
Read it? Rate it!