Watership Down by Richard Adams–ISBN 9780743277709–*****
Genre: Fiction
Time to Read: Nine days
Short Summary:
Watership Down is a story about rabbits, if you take it at face value. One day, Hazel and his brother Fiver come upon a signpost that a man has put up in the field near where their warren is. Fiver is a unique rabbit. He isn't big and strong like Hazel, but he has sort of a super-natural sense. He knows the sign is bad luck and that something horrible will happen to all of the rabbits in the warren if they don't leave and find a place far away from man to make a new home. Most of the rabbits refuse to go, but a handful, including the cleaver Blackberry, Dandelion the storyteller, Big Wig the solider and Pipkin the ever-loyal friend, escape the warren and set out to establish a new home, finding themselves on Watership Down. After they reach the down, even more adventures follow and the reader sees our world from a much different point of view.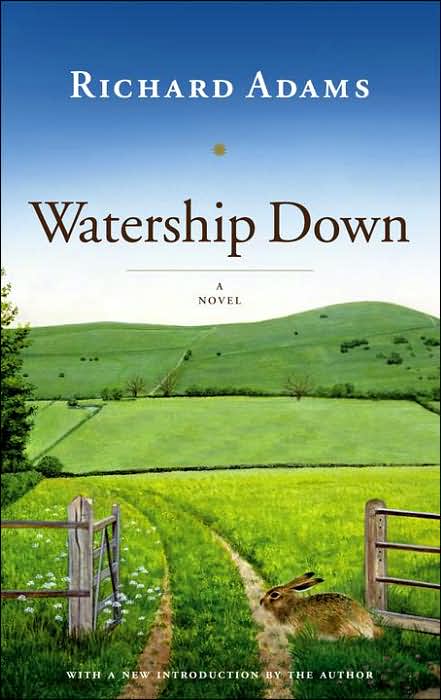 In truth, Watership Down was, to me, more than just a story about rabbits. It is, in part, a story about how our actions impact the animal world, making it a story to bring about greater awareness for our environment. It is, in its own round-about way, a story about tolerance as Hazel and his comrades learn to get along with other animal species on the downs. It is an adventure story of a different kind. A tale of courage, friendship and family. I loved getting a rabbit's eye-view of things and reading the stories the characters told to one another about their long-eared folk hero. The adventures these rabbits go through kept me reading to see how their story would end. I was not at all disappointed.
Books written from an animal's point of view are generally marketed as children's stories. While a child might enjoy some parts of Watership Down, the tale is one that can be thoroughly enjoyed by grown-ups. In fact, some parts may be too scary for a youngster. While a child would be able to enjoy a story about rabbits, an adult will be better able to see the underlying elements that make up this adventure.
I highly recommend Watership Down to any lover of fiction. If you are looking for a summer reading book and this one is on your list, you will find that it is not a difficult read, and it can be read at face-value–as a fun story about rabbits–or you can delve into its underlying story about man's impact on the animal world and the importance of family, friendship and determination. If you are looking for a book to read for enjoyment, Watership Down could also be for you. It is a light, fun read with just enough adventure to keep you turning the pages and a comfortable, story-teller's narration that makes it feel as though someone is actually telling you the story while you sit back and enjoy the tale.
Check out more Richard Adams books on his official publisher page!
Read it? Rate it!