Something Wicked this Way Comes by Ray Bradbury — 9780380977277 — *****
Genre: Fantasy
Time to Read: Approx 1 Week
Short Summary:
Ray Bradbury's Something Wicked this  Way Comes is a story about two boys–Will Halloway and Jim Nightshade–best friends who were born one day apart, Will on October 30th and Jim on October 31st. It is set in mid October, when an out-of-season carnival comes to town. The boys, being typical almost 14-year-old boys, decide to check out this new source of entertainment and wonder and discover that there is more to its odd performers than meets the eye.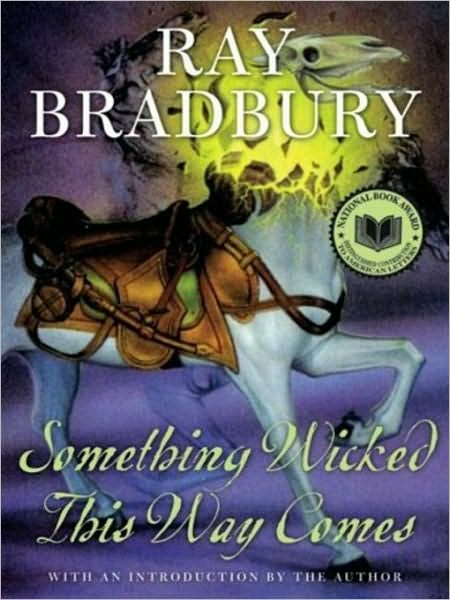 Something Wicked this Way Comes is one of my favorite Ray Bradbury novels. It's rich with Bradbury's poetic descriptions that nourish all the senses, and it kept me reading to the end, even on this, my second time reading it. Ray Bradbury is a master of fiction, and I could say so much about this title that I'm not sure what to say. I guess that all I can say is that this one leaves me speechless. It's one of those books that has what I call the "Wow Factor." So, Wow!
I would recommend this book to readers of just about any age. A nine-year-old might see it as a scary story (scary in a good way. Maybe "spooky" is a better word); a 90-year-old might read it and remember his or her own youth, and a 20-something like me might read it and say: "Wow. I should read more Ray Bradbury!"
(Note: I know I said in my last post that I would be reviewing Kathernie Neville's The Fire this time around, but October sneaked up on me, and October IS Ray Bradbury month, which means all Bradbury all Month. I will read and review The Fire after the end of this month, though I may be slowed down by NaNoWriMo in November…)
Check out Ray Bradbury's website!
Read it? Rate it!