Pandora's Daughter by Iris Johansen — 9780312368043 — ***
Genre: Thriller
Time to Read: 3 Days
Megan Blair is a successful young ER doctor with a shocking secret that has been blocked from her memory since her mother's death. As a child and then as a teen, Megan heard voices. Now, the voices are threatening to return and take over her life, but she isn't crazy. The voices aren't just in her head. They are the whispers of dead coming to her from beyond the grave. Now, she must learn to control them, and discover the memories and the psychic powers that have been dormant inside of her since she was a young teen.
With the help of a handsome and mysterious man named Neal Grady, Megan begins to uncover her forgotten past and discover the magical world that thrives in this one. But can she and Grady unlock the secrets of her abilities before she is destroyed by the man who blames her mother for his son's death and who, in turn, wants Megan and all those who are like her to suffer as he eradicates them from this wold?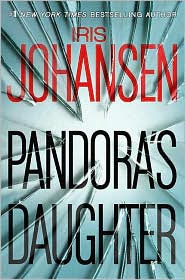 This is the first book I have ever read by Iris Johansen, and I have to say that I am happy that I picked it up. It is an exciting thriller with enough mysticism to interest a fantasy reader, enough action to capture a thrill seeker, and enough passion to enthrall a romantic. In Pandora's Daughter, magic exists as a subculture in our own world. It is a genetic anomaly that has captured the attention of many over the years. Of course, different people have seen it in different ways. Some have wanted to use it, others have tried to destroy it, and those who possess these abilities have always done all they could to keep their gifts out of covetous hands.
I like the characters in this novel, I enjoyed the plot, the antagonist is wonderfully mad and the four most important characters in the story are lovable, but in some ways hatable. I did, however, run into a few things that didn't appeal to me. All of the characters seem to use the expression "Damn it," repeatedly. I'm not one to complain about "bad" language, but it just becomes old and redundant. They say "damn it!" when they're in trouble. She says "damn it" when she's angry at him, and he often says "I want you, damn it!" I just wish she had limited it to one character's favorite expression, or found some synonyms that would express the same things. Then, perhaps it wouldn't have gotten so old, damn it!
The sexuality in this book runs a little too rough for my tastes in some situations, too. A little…crude? "I want you (damn it), and I know you want me, and one of these days I'm going to stop resisting…" blah, blah, blah. The main male character says something of that nature a lot. Starting around the early-middle of the book, and going until the end. There isn't any erotic content, it's just a little uncomfortable to me. The "I won't take no for an answer because I know you really want me, too" attitude he occasionally displays doesn't sit well with me (In my opinion, even if a man is magically linked to a woman and he knows exactly how she feels about him, he has to take "no" for an answer. It would be wrong not to.). That, and he threatens not to take no for an answer for a long time, but doesn't act until she says yes, so it's an empty, pointless threat. Just a way to create sexual tension between the characters. Redundantly. I think she could have done better by changing it up a bit every now and again.
Over all, I really did enjoy Pandora's Daughter. It was an exciting book that kept me reading to find out what would happen next. I am tempted to rate the book higher, but those elements that I dislike were too strong for me to do so. I expect that I will read more of Iris Johansen's books in the future. Perhaps I'll select one that is a little more popular among her titles (this one ranks somewhere toward the middle of her books when her titles are sorted by "best selling") and hope for the best!
Check out Iris Johansen's website here!
Read it? Rate it!