The Wise Man's Fear (Kingkiller Chronicle Series #2) by Patrick Rothfuss — 9780756404734 — *****
Genre: Fantasy
Time to Read: 13 Days
Short Summary:
We return to the Waystone Inn, where the Chronicler is recording the second part of Kvothe's story. Our young hero-turned-innkeeper tells of more troubles at the university, which inspire one of his professors to convince him to take a little time away to let the air clear and tempers cool. Taking that advise, he sets off in search of a patron and finds himself in court at Vintas. Maer Alveron–a very wealthy man with ties to past kings–has sent for aid in a very private matter that requires someone with a way with words. Soon, the Maer is in Kvothe's debt, but he sends his young confidant on one more mission that will either solidify that debt or kill him. Kvothe and a small group of mercenaries are tasked with finding a band of thieves who have been stealing from the Maer's tax collectors, killing them, and collecting all of the stolen money they can find. On his trip, Kvothe encounters a sinister man with ties to his troupe's murder, a siren of fae, and a legendary community of fighters known as the Adem. As he fights to survive, dispel the negative myths that surround the Edema Ruh, and increase his own reputation, Kvothe learns valuable lessons that he couldn't learn from his studies because his eyes had been closed by doubt.
Meanwhile, in present time, things are growing steadily worse in the outside world. During one of the interludes between Kvothe's story-telling, demons arrive at the inn to cause trouble for its keeper and its patrons. The people of the small town are concerned about the harvest, but their minds still continue to turn to darker things as they begin to see that the troubles that have been plaguing the rest of the world are finally upon them.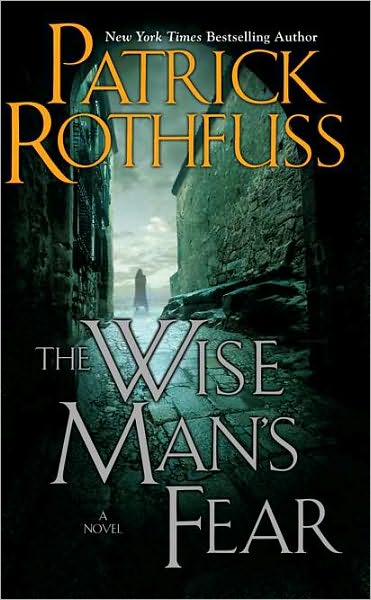 To start, let me say that my short summary doesn't give this book justice! So much happens in The Wise Man's Fear that I can't put together a good description without giving everything away, so I've been forced to settle with this vague shell of a synopsis. Please don't hold my failings against this book.
The Wise Man's Fear by Patrick Rothfuss is an amazing continuation of The Name of the Wind. Kvothe continues to display what I have begun to refer to as his "foot-in-mouth disease," painting himself into corners, burning bridges, and otherwise making his life more difficult. On the other hand, he is beginning to learn. Throughout the book, we get to watch him evolve, beginning his transformation into a hero.
I thought I couldn't put down The Name of the Wind, until I picked up The Wise Man's Fear. I was completely consumed by the story. Even now, four days after finishing it, I haven't been able to pick up a new book because I am too preoccupied with wondering what is going to happen on day three, both in Kvothe's story, and in the world outside the inn. I am very much looking forward the the third installment of this series and, if history repeats itself, it will be well worth the wait I know I'm in for.
Check out Patrick Rothfuss's website!
Read it? Rate it!