The Physick Book of Deliverance Dane by Katherine Howe — 9781401341336 — ****
Genre: Historical Fiction/Fantasy Fiction
Time to Read: 6 Days
Short Summary:
Connie Goodwin–a Harvard student of Colonial History–is in search of a unique source to base her dissertation on when her mother asks her to clean out her deceased grandmother's long abandoned house in Marblehead, Massachusetts. Despite her reluctance, Connie agrees, only to discover that the source she has been looking for was once on the bookshelves of the very house her mother has asked her to prepare for sale. An antique key with the words "Deliverance Dane" on a tiny piece of paper rolled up inside of it fall out of her grandmother's bible, sending her on a quest for answers. Realizing that Deliverance Dane is the name of a woman who lived in Salem, Massachusetts in the late 1600s, Connie begins to dig into the past, learning about herself in her quest for Deliverance Dane's long lost book.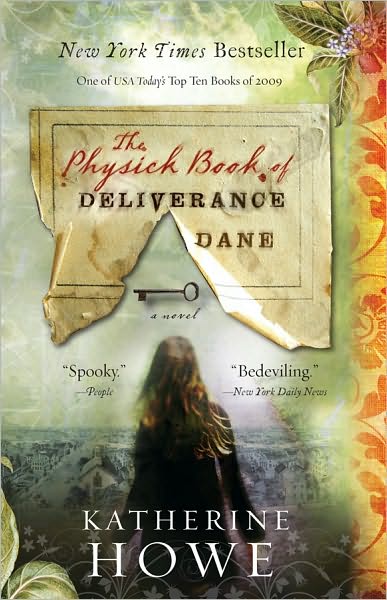 I was a little uncertain about this book at first. The opening, during which Connie takes her oral examination at college, is a little mind boggling, and she does a lot of jumping between 1991 and the 1680s and '90s before she settles into a good pattern. Once I grew accustomed to Katherine Howe's writing style, however, I found that the book grew exponentially better as it progressed until I had 100 pages left and wanted to know the ending then and there.
The history in The Physick Book of Deliverance Dane feels amazingly well researched and is quite fascinating. Connie's research is both historical and genealogical, and the added magical element is very well done. Katherine Howe did an excellent job with the herbalism that is the root of the magic, and she shows a great deal of respect for the wiccan religion, skirting the stereotypes and sharing a modern and realistic point of view of the hysteria in Salem. A modern witch will appreciate her tact, a history enthusiast will be pleased with her care and a lover of books with seemingly real magic with be pleased with her story as a whole.
There is also a romantic element in The Physick Book of Deliverance Dane, but it doesn't overpower the main story. It just flows along with the plot, enhancing it without changing it. As an anti-romance book reader, I appreciated its subtly.
Over all, this is an excellent book. I would recommend it to anyone with an appreciation for history, magic and realistic characters and plots.
Check out Katherine Howe's website!
Read it? Rate it!