Plague Ship (Solar Queen Series #2) by Andre Norton (aka. Andrew North; Andre Alice Norton; Alice Mary Norton; Allen Weston) — 2940011809583 – ****
Genre: Science Fiction
Time to Read: 6 Days
Short Summary:
The Free Traders of the ship the Solar Queen are on a mission to win trade with the newly discovered planet Sargol, which is inhabited by a feline-like race that holds closely to ceremony  and is slow to trust the humans. After arguments with a Company trade ship, a sunset hunt for the planet's naval monsters and some tough negotiations, it is time to blast off. When the Solar Queen heads for home, however, her crew finds that they have left Sargol with more than they bargained for. As senior crew members begin to fall ill, the ship's younger recruits–including the ship's apprentice cargo master Dane Thorson–must find out what has caused this alien plague and stop it before the Solar Queen can be blasted from the sky as a plague ship.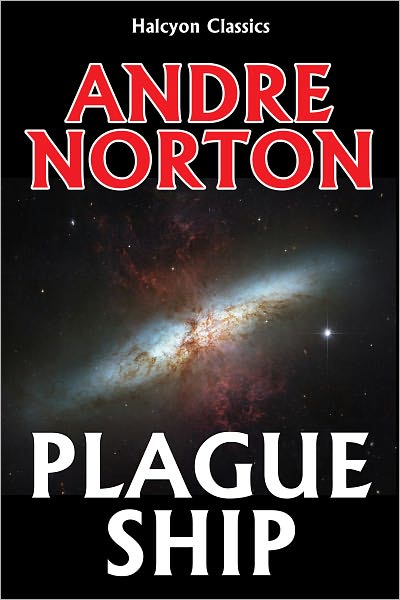 To date, I haven't read much space science fiction. I enjoy the genre on screen, but no books have really grabbed me. At least not until this one.
Plague Ship was a little slow to start, but as soon as it got rolling, I didn't want to put it down. It was published in 1956, but it has none of the somewhat tiresome old-fashioned social stereotypes. This may be due to the fact that it had an all male cast (so no lone female had to be saved every time the main character turned around), or perhaps to the fact that it was written by a women under a masculine pen name, but for whatever the reason, Alice Mary Norton's masterpiece has a classic feel without the strange narrative voice I tend to run into with books from that era or the eye-rolling remarks other writers of that period used to belittle any character that wasn't a male human Caucasian. It is simply good writing. The rules of her characters' "world" (universe, in actuality) are extremely well planned. The plot is full of twists that truly are twists. It is full of suspense that keeps you reading to the end, even if the first half of the book is more an exploration of an alien world than it is a story about a "plague ship." It's a good, quick read for anyone who likes science fiction, or for anyone looking to try it out.
As a side-note, this is book two of a series called Solar Queen, but it doesn't seem like reading the books out of order will be a problem. This one volume contains the full plot of the story, so you aren't jumping in somewhere in the middle, and you don't have to scramble for the next book right away. That being said, I am hoping to locate the other books in this series in the future, simply because I enjoyed Plague Ship so much, and because I have read that her characters get even better as the books progress.
Check out Andre Norton's website (and learn more about her life) here!
Read it? Rate it!