American Gods by Neil Gaiman – 9780062109590 — ****
Genre: Fantasy
Time to Read: 20 days
Short Summary:
Shadow's sentence is almost up. He is counting the days until he can go home to his wife and start over. He can almost taste his freedom around the prison food, but the sweetness turns to ash in his mouth when the warden gives him the news: He is going home a few days early so that he will be able to attend his wife's funeral. He is part way home when he realizes he has nothing to go home to. When he meets a mysterious one-eyed man who calls himself Wednesday, Shadow is skeptical but, after much persuasion, agrees to work for him as his body guard, driver and errand boy. He soon discovers that the world is not as it seems. Right under the nose of society dwell the abandoned Gods of the past. They live as ordinary citizens with extraordinary abilities, and now the Gods of old and the Gods of the modern world are going to war with Shadow stuck in the middle with both sides vying and threatening for his allegiance.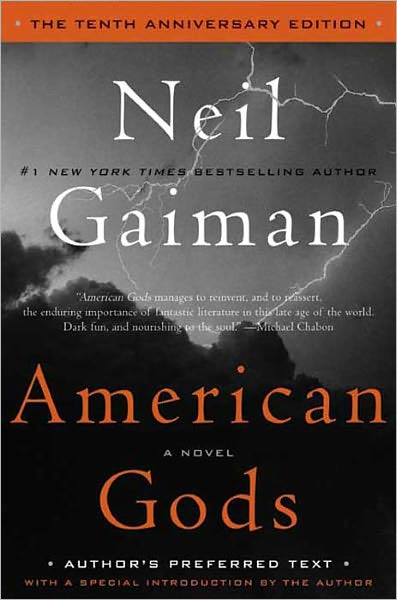 This is my first experience reading Neil Gaiman, and my expectations were high from the start. American Gods was not at all what I thought it would be, but it didn't disappoint me in the least. It is very different from any book I've read before, both in writing style and subject matter. I especially liked the idea of the old, forgotten Gods trying to live as humans among the people who have abandoned them, and the idea that modern interests (i.e. Computers, Media) have developed into Gods because of the way we devote so much of our lives to them.
I also love the fact that all of the characters, including (or, perhaps especially) the Gods are flawed. It makes them more real. Without getting too deep into theology, I must say that I like the idea of flawed Gods. It gives their followers a stronger connection with them. It's the same with flawed characters: The perfect hero is the worst kind, unless he's starring in a Disney film.
American Gods was a great read. It didn't grab me as strongly as other books I've read. I didn't feel a need to pick it up and read until my eyes refused to work and my brain went fuzzy, and it wasn't impossible to set down mid-chapter, but I enjoyed every word and look forward to reading more by Neil Gaiman in the future. I highly recommend it to anyone looking for a unique fantasy set in almost real-world America.
Check out Neil Gaiman's website!
Read it? Rate it!