The Illustrated Man by Ray Bradbury — 9780380973842 — ****
Genre: Science Fiction
Time to Read: Average 1 hour or less per story
Short Summary:
A young man on a walking tour of Wisconsin encounters a tall, powerful, tattooed–illustrated–man. The ink on the man's skin tells of the future. Among the menagerie of art are tales of men on Mars, the rainy jungles of Venus, an Earth occupied by robots and a family that dreams of taking a trip into space. As the young traveler sits with the illustrated man, the latter shares his stories. The future is full of hope and horror, and the illustrated man knows it all.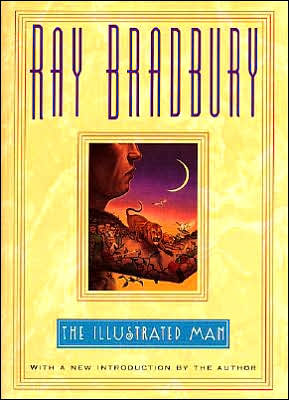 The Illustrated Man by Ray Bradbury is a collection of short stories that are tied together with an introduction about an illustrated man sharing stories of the future with a young traveler and ending with the illustrated man's own story. All of the stories in the collection are science fiction, but they are otherwise unconnected, making this a great "book between books" title. I've been reading it in morsels for quite a while, but some of the short stories still stay with me, even after having read them months ago. Ray Bradbury is my favorite author, and his style shines through in each word. He is a master of metaphor, and even a one-page short story resonates in the heart and mind of a reader. I did like some of the stories better than others, which is to be expected, but when taken as a whole, The Illustrated Man is an amazing collection, and a must-read for anyone who enjoys Sci-Fi and is looking for a really well-written book.
Check out Ray Bradbury's website!
Read it? Rate it!