A World Without Heroes (Beyonders Series #1) by Brandon Mull — 9781416997924 — ****
Genre: Young Fiction Fantasy
Time to Read: 12 Days
Short Summary:
Jason Walker is a relatively ordinary thirteen-year-old boy. He works hard in school, he plays baseball and he likes animals. He even has a job at the local zoo. One day, while cleaning the hippo tank, something strange happens and he finds himself crawling out a hollowed-out tree into a world that looks nothing like Vista, Colorado.
Before long, he learns that he has fallen into a world called Lyrian: A world that is resided by an evil emperor who happens to be the last know wizard. In an attempt to find a way home, Jason stumbles on a secret that will bring about the destruction of Lyrian's evil emperor, and he finds himself thrust into the role of a hero. Along the way, he meets Rachel, a girl who fell into Lyrian from Olympia, Washington, who is tasked to help him by a blind, defunct king who was Lyrian's last failed hero. As they quest to find the secret that will be the emperor's undoing, Jason and Rachel face dangers that are literally out of this world making enemies and friends along the way.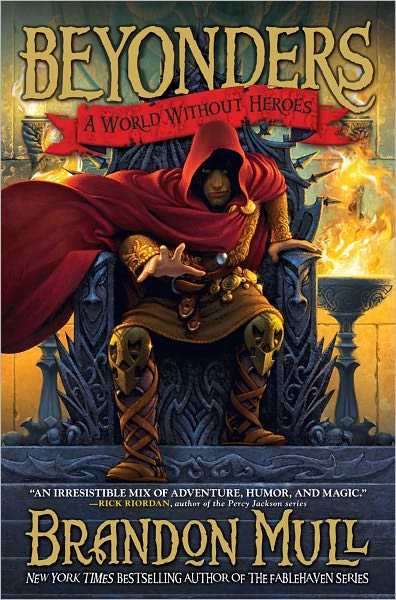 Although A World Without Heroes is written for younger readers, it is a fun story for grown-ups, as well. Personally, I found it to be a fun, light read. Something that would be ideal to take on vacation and relax with. I can also see my 10-year-old niece reading this one with abandon. Brandon Mull is truly a skilled author.
The characters are very compelling. I definitely feel they would be good role models to young readers, because they are smart, hard-working, and they try to do what is right, even if that means taking the harder way. They also respect their elders, but show initiative and independence. Jason, for example loves baseball, but he is careful to balance studying with sports, even when his friends gently tease him for having his biology book with him during practice.
Aside from the great examples Jason and Rachel display throughout, this is just plain fun. It you're looking for a good book for a child who likes Harry Potter, Percy Jackson and the Olympians and Fablehaven (also by Brandon Mull) that is age-appropriate but not "too easy," this one is a perfect fit. If you're a grown-up who likes to pick up a young reader book every now and then, this one is too good to be referred to as a "guilty pleasure." Read it, and enjoy! Then look forward to the sequel, coming in the spring of 2012.
Check out Brandon Mull's website!
Read it? Rate it!