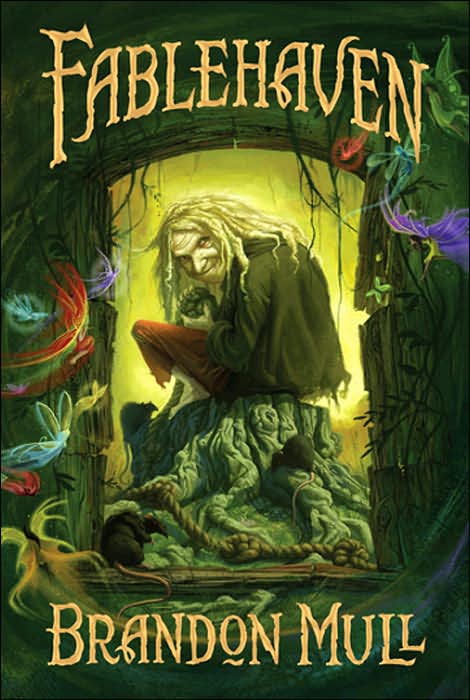 One more series before I get into the summer reading books. Again, instead of a book-by-book review, I'm going to cover the entire series in this one review.
The Books:
Fablehaven — ISBN 9781590385814 — *****
Rise of the Evening Star — ISBN 9781590387429 — *****
Grip of the Shadow Plague — ISBN 9781590388983 — *****
Secrets of the Dragon Sanctuary — ISBN 9781606410424 — *****
Keys to the Demon Prison — ISBN 9781606412381 — *****
Genre: Young Fiction (Fantasy)
Time to read: About a week.
So, first, a quick summary (avoiding spoilers at all costs). The Fablehaven series tells the story of Kendra Sorenson–who is  about 14 years old in the first book–and her younger brother Seth who are on a forced vacation at the home of their estranged grandparents in Connecticut while their parents go on a cruise to fulfill the dying wish of their other grandparents who were killed in an accident. While there, they discover a magical world that is hidden in our own and known only to a very small number of people. The children's grandparents are the caretakers of Fablehaven, a preserve that provides haven for magical beings such as fairies, satyrs, centaurs and even demons. As the series progresses, Kendra and Seth learn all about Fablehaven and the other magical preserves that are hidden all over the world and discover a little magic in themselves that allows them to help protect the world from dark magic that is trying to escape. It is a series full of magic, adventure, laughter and darkness.
This series is made up of what I like to call popcorn books: They're light, fun, easy to read and hard to put down before they're done. It is recommended for ages 8-12, but 8+ would be a more appropriate age range, because there is something in these books for readers of any age (though they may be a little scary for the younger crowd, so 8 sticks as the base age). The Fablehaven series just gets better with each book, and it starts off amazingly. The adventure builds to a wonderful ending, and I couldn't help but laugh at Seth's antics as he provides comic relief (and some lessons in caution) along the way. The characters are all wonderfully developed so that it's easy to forget that they're characters, and the magical creatures are masterfully rendered. A friend of mine said to me once that fairies (in a book) are hard to pull off. She was right, but Brandon Mull makes it look easy. What an amazing series! I very highly recommend it to anyone who enjoys the fantasy genre and is looking for an awesome adventure (for the 8-12) or a quick fun read (for the 13+). Don't let its placement in the children's section turn you away (Harry Potter is a children's series, after all). Read and enjoy!
Check out Brandon Mull's website and the Fablehaven website!
Read it? Rate it!