The Tommyknockers by Stephen King — 9781101138405 — ****
Genre: Horror, Science Fiction
Time To Read: 2 Months
Publication Date: 10 November 1987
Short Summary:
Bobbi Anderson is Haven, Maine's local celebrity. The best selling author of Western novels lives on the farm she inherited from her uncle. The man was a little nutty, and Bobbi sometimes wonders if it came from living out here in this little town, but it's quiet in Haven. The perfect place to escape from her cruel older sister's claws and write her next best seller. One day, she is taking a walk in the woods behind the farm, her aging beagle Peter by her side, when she trips over something that is sticking out of the ground. Is it rock? No. It's metal, but what is it? She begins to dig it up, but it's huge. She doesn't know how long she's there digging before Peter brings her back to reality. They go back to the house, but Bobbie is now consumed with the need to dig, dig, dig.
James Eric Gardner (Gard ole Gard, as he often calles himself) is…was a renowned poet and professor of literature. Now he's one of several poets participating in the New England Poetry Caravan, reading his poetry along side other writers for the free food and board and the stipend, so much as it is. That is, until he messes up and gets drunk. Now, he's standing on the shore, a failed, drunken poet with no future and no hope. He's ready to be done with it all. To jump into the sea and wash away with the rest of his career. But, suddenly, the feeling comes over him that Bobbi needs him. Bobbi Anderson, his one time student and lover and forever friend is in trouble. Deciding he can pick up his suicidal thoughts after he is sure that Bobbi is okay, he heads for Haven, where he finds that Bobbie, along with the rest of the small town, is different.
Haven is changing. Its residents are "becoming." Becoming what? They don't know, but it gives them power and insights beyond those any mere human could ever grasp. Telepathy, for one, and the ability to re-invent old junk wired with D-cell batteries into useful, and sometimes dangerous, tools for another. Whatever this Becoming is, it is making them more than human. They are consumed by it. They welcome it. Only Gard, Bobbi's drunken old pal, seems immune. The metal plate in his head–a souvenir from a near-fatal skiing accident–is preventing him from becoming. Only he sees what's really going on in Haven. If he puts down the bottle and opens his eyes, he could be dangerous. For now, he's useful, and Bobbi likes him, so he stays. For now…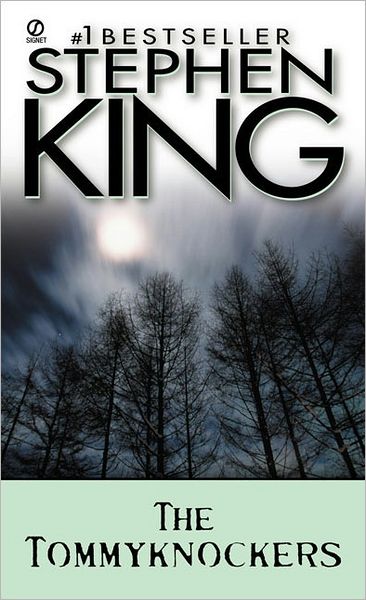 First off: It took me much longer than it should have to finish this book. I started it at the end of November, reading only on my breaks at work so I could work on my NaNoWriMo novel at home. Then it was holiday season at work. I was still writing at home, but my breaks at work became a time to recoup from the rush of the season, so I wasn't doing much reading. After that, well, I was still doing no reading at home, so I just couln't get through it fast. I could have, but I'm determined to write, so reading comes second right now. (A side note: I did read at least one book before this that I haven't reviewed. May wait to review it until the next time I read it so it's fresh in my mind)
The Tommyknockers, by Stephen King is, simply put, not simple to put. I read it  expecting "cheese" after having seen the mini-series as a kid, and have to say that I was, at first, disappointed that the mini-series didn't follow it more closely. Then I was glad it strayed so far. Then I was relieved that the mini-series was only a vague resemblance of the novel. Stephen King is a builder. He starts off slow and relatively calm, then something happens in his plot, and it starts to build, getting more and more intense until your head wants to explode. The Tommyknockers holds true to that.
This novel is broken up into three parts: "Book I – The Ship in the Earth," "Book II – Tales of Haven," "Book III – The Tommyknockers." Book I is, essentially, all about Bobbi's discovery, and Gard's arrival and involvement. By the time it ends, you're already at the point where you feel like you're going to lose it. Book II is about the people of Haven and the changes that are going on in the town. This part of the novel is a little bit of a break from the insanity of the rest. It starts off nearly as slow as the very beginning of the novel, and stays on a pretty even keel throughout, lulling you into the false belief that this is going to be the pace for the duration. Then Book III begins, and the plot takes off like a rocket, dragging you along screaming for the rest of the ride.
Book I was excellent. Book III was mind-blowing. I have to confess that I think Book II is the reason it took me so long to read the entire novel. While I was reading the first part, I was, as I said, trying to restrict my reading to at work only so I could get some serious writing done at home, but I snuck in a few hours here and there, because I needed to know what was happening. When it transitioned, however, I was content to read only on my breaks at work, even skipping days when I had a day off or when I found myself sharing the break room with one or more of my fellow employees. When Book III began to pick up, however, I had to read it to the conclusion, reading the last 40 pages and forgetting that the super bowl was on and my sister was enthusiastically cheering, then frustratingly jeering (her team lost, apparently) only four feet away from where I was reading. Of course, Book II was necessary. It introduced me to important characters that came into play at the end, and told me that Bobbi wasn't the only one changing. It also is probably the only reason my head didn't explode while I was reading this.
Overall, The Tommyknockers by Stephen King was more than I expected, and almost more than I could deal with without screaming (actually, a few times, I did have to put it down and let out a crazed "Aaah!" before I could continue). It isn't a book for the faint of heart (or, on some occasions, the weak of stomach), but I recommend it to anyone who needs a little horror in their life.
Check out Stephen King's website!
Read it? Rate it!