The Eight by Katherine Neville – 9780345366238 -*****
Genre: Fiction/Historical Fiction/Adventure
Time to Read:  Eleven Days
Short Summary:
Katherine Neville's The Eight follows three women on parallel quests two hundred years apart.
In the 1790s, novices Mireille and Valentine are sent out from the Montglane Abbey with pieces of the Montglane Chess Service–a legendary chess service that once belonged to Charlemagne and that is said to have a mystical power. Charged with keeping the pieces out of the hands of those who would use that power for evil, Mirelle and Valentine flee to Paris and find themselves in the midst of the French Revolution.
In the 1970s, Catherine is sent on a business trip from New York to Algeria. Her firm sends her to work with the newly formed OPEC, but a friend has charged her with finding pieces of the Montglane Service that are believed to be hidden there. On her quest for the pieces, she learns that there are some who will stop at nothing to get their hands on the mythical service and finds herself in a game for her life.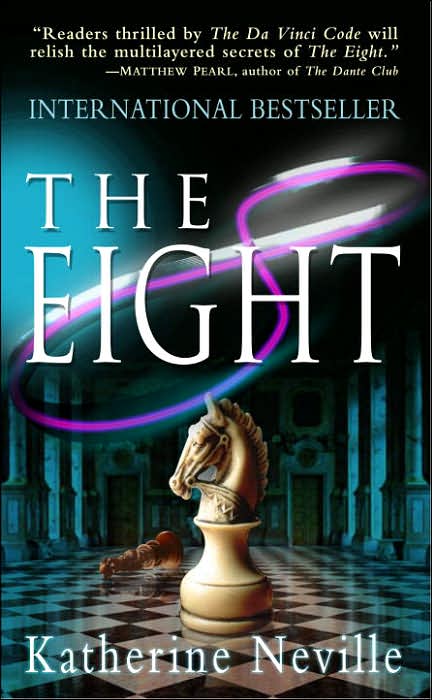 Katherine Neville's The Eight is exciting and addictive.  It is full of action and danger, rich with historical facts and myths and splashed with historical figures, from a young Napoleon Bonaparte (before his famous campaigns) to the poet William Wordsworth. I have to admit, I will never look at the game of chess the same way again.
I am not a chess player, and was a little concerned that I would get lost because the book is written around the adventures of people trying to secure the Montglane Chess Service and several of the characters are chess players, themselves. Thankfully, though the chess theme remains throughout the novel, Katherine Neville explains the relevant rules of the game very clearly, and only describes parts of one chess game through the eyes of a person who doesn't play chess, herself. Once I discovered this, it was beyond difficult to put the book down.
My only frustration is that she follows the lives of people two hundred years apart and I often found that when she switched from one time period to the other, I wanted to continue following the first plot and by the time she would change back, I'd want to keep on with the second. I was even almost tempted to read the 1970s plot, then go back and read the 1790s plot. As difficult as it is to read in order, I encourage those who decide to read this book to read it as written. The plots compliment each other, and if you read one then the other, you will miss out on some parts, and other things will be given away by one plot before you can read them in the other.
I very highly recommend this book to anyone who likes adventure and appreciates history, mystery, danger and a hint of romance. If you liked Dan Brown's DaVinci Code, you will love this book (Keep in mind that The Eight was written fifteen years before DaVinci Code. I would not be surprised to learn that Dan Brown is a Katherine Neville fan.). Just don't skim or skip–as attempting as it may be–or you'll miss something important.  This book is definitely worth taking the time to enjoy, though you may not find putting it down an option.
(Note: The Next book I will be reviewing is The Fire, the sequel to The Eight)
Check out Katherine Neville's web site!
Read it? Rate it!