Scarlet (King Raven Trilogy #2) by Stephen R. Lawhead – 9781401685393 — *****
Genre: Fantasy
Time to Read: 7 Days
Short Summary:
The story of one man's life as it is told by the condemned to his jailor. In Lawhead's Scarlet, William Scatlocke–better known as Will Scarlet–tells of how the Norman invaders forced him out of his old life and into the wilderness. Inspired by tales of the King Raven, Will sets off to find the outlaw and join him if he can. Upon meeting Bran ap Brychan and his flock of followers, Will finds himself among friends risking his life to help the rightful king of Elfael save his people and drive out the invaders at the risk of his own life and freedom.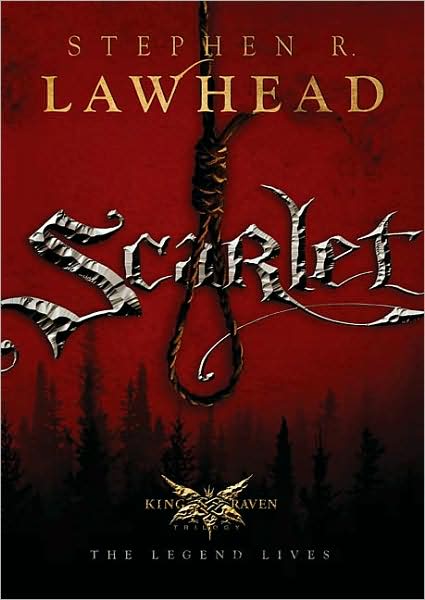 Another amazing book by Lawhead. Scarlet threw me off in the beginning due to the fact that the style of it is very different from that of Hood. In most series I've read, it is easy to put down the first book and pick up the second and continue on with the tale. In Scarlet, however, Lawhead changes gears. The point of view alters, and it actually changes between present and past tense (this is done very well between chapters and chapter breaks). Instead of picking up right where Hood left off, Scarlet begins well after its predecessor ends, which is maddening at first, because I really wanted to continue the story from Hood's conclusion, not pick up some time later. Still, after I became accustomed to the style of this novel, Scarlet was impossible to put down and I even found it in some ways better than Hood.
Because it is a lot of first person narration, the reader gets an intimate insight into the character of Will Scarlet. If you've read my other reviews, you already know that I love good characterization, and this is some of the best I've seen. Will is proud, loyal, clever and brave. He speaks of himself in the third person, and he enjoys poking fun at the scribe who is writing down his tale despite the noose he knows is waiting for him when he finishes. It is, perhaps, the characterization of Will Scarlet that made me enjoy this novel even more than the first in the series.
The story, itself, is also very enjoyable. Will gives us a more intimate insight into Bran's camp, and his observances are more human than those of the omniscient narrative voice of the first book, which makes all of the characters seem a little more real. The adventure and excitement is spectacular, and there is more old world magic and less preachiness in it than what was in Hood.
In short, Scarlet is an amazing book that has deepened my appreciation for the King Raven Trilogy even more (Which I am enjoying so much that I haven't wanted to put down Tuck long enough to write this review, even though I finished Scarlet three days ago). I highly recommend it to anyone who likes fantasy, historical fiction and Robin Hood tales.
Check out Stephen R. Lawhead's website!
Read it? Rate it!