The Picture of Dorian Gray by Oscar Wilde – 9781593081751 – ***
Genre: Gothic Fiction; Horror; Fiction
Time to Read: Nine Days
Short Summary:
The Picture of Dorian Gray by Oscar Wilde is a story of a young man named Dorian Gray. When it begins, he is standing for his friend, the artist Basil Hallward, who covets his youthful good looks and is creating what is to be his best painting: A portrait of young Gray. When Basil reluctantly introduces the wide-eyed youth to his friend Lord Henry Wotton, the innocent, boyish Dorian listens to all the things Lord Henry has to say about the importance of youth and beauty. Dorain begins to become obsessed with his own youth and beauty, and cries out a prayer that the portrait Basil has painted will age and allow him to retain his good looks. Thanks, in part, to Lord Henry's bad influence, the impressional Dorian's gentle nature begins to turn and, one day, when he realizes that the painting is changing instead of him, he takes joy in it, saying that the painting will be his conscious. Unfortunately, despite the fact that he constantly says he will change and be a better person, his good heart is poisoned, first by Lord Henry's influence, than by his own behavior, but he retains his youth and beauty as the painting grows ugly and evil.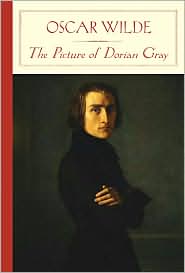 This is basically a book about morals, conscious, and the dangers of vanity. The novel, itself, is a little dry, especially toward the beginning. There is a lot of dialogue and gossip, and it feels like it jumps from one scene to the next without any form of transition, using chapter breaks, instead, which occasionally becomes disorientating. It does improve as the story progresses, but it feels like half the book is introduction. When Dorian finally realizes that the picture is changing instead of him, things really start to pick up. It becomes easier to read, and I found myself wanting to know how everything was going to turn out. The character of Dorian is, to me, sympathetic. I feel like Lord Henry's influence has poisoned him and, if he would only stop listening to the older man (which he plans to do several times), he would probably become a good person. I actually kept hoping for him to find a way to turn himself around, until he crossed a line there would be no coming back from.
To be honest, as much as I expected to, I did not love this book. It wasn't horrid, but I feel like it could have been so much more. Maybe if Oscar Wilde could could come back and re-write it today without the court's influence forcing him to alter it (Thanks to this novel, he went on trial because it made people believe him to be homosexual, and he was forced to remove certain elements from the book.), and in a slightly more modern voice, it could have been more. No, let me correct myself. It's not that it needs to be in a more modern voice. A writer will be familiar with the rule: Show, don't tell. A lot of The Picture of Dorian Gray does not follow this rule. He tells instead of showing, which makes it seem more detached. The parts where he does show instead of tell are wonderfully poetic and delightful (read the beginning of first chapter, and you'll see what I mean), but the parts where it becomes all dialogue feels tedious and dry. If there were more showing and less telling, I certainly would have enjoyed it a great deal more.
Over all, it was an okay book. I wouldn't recommend it to a non-reader or to someone who enjoys a light read, but someone who likes the classics and doesn't mind some 19th Century London gossip in a novel will probably appreciate it, and may like it even more than I did. It has a lot of great material for paper writing, so if you are looking for a good book for a literature essay, The Picture of Dorain Gray would be an excellent choice. If you have been thinking about reading it, please don't go purely by my somewhat less than glowing review when making your decision. Give it a try! The only way you'll know if you like it is by reading it, yourself!
For more information on Oscar Wilde, check out the official website!
Read it? Rate it!