Fahrenheit 451 by Ray Bradbury — ISBN 9780345410016 — ****
Genre: Science Fiction
Time to Read: One day
Short Summary:
Fahrenheit 451 is a futuristic novella about a man named Guy Montag. Guy is a fireman, but not in the way we think of firemen today. In his world, homes are fireproofed and firefighters aren't needed. Instead, his job is to burn books along with the homes of the book owners. The futuristic society in which he lives has rejected books. People hate them, they fear them, and few have ever even read them. In the beginning, Guy enjoys his job, but then he meets a teenage girl who opens his eyes and his mind to the possibility of a better, happier world. Guy's life is quickly turned upside down, and he finds himself talking with a retired professor and wondering if, perhaps, there is something in the books he has been burning that is worth reading.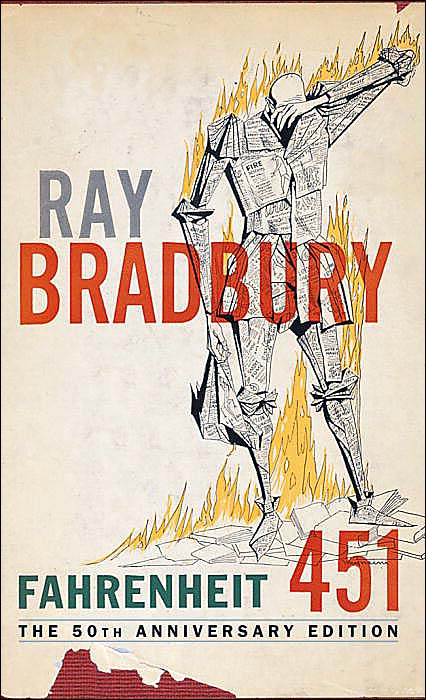 I want to start by saying that I am a huge Ray Bradbury fan, but up to this point I have somehow missed this little gem. Fahrenheit 451 isn't a long book–my copy is 165 pages–but is is a good example of what booksellers mean when they tell teens who are in for summer reading books that the shortest isn't necessarily the easiest. I'm not saying this book was a hard read, but it isn't popcorn by any means. It takes a little time to acclimate (that really is what you have to do in the beginning), but once you're familiar with the world in the book, it's a good read that requires a good deal of thought, but demands your attention so that you have to find out how it ends.
The best word I can think to describe Fahrenheit 451 is "profound." In this modern world–probably close to the time this book is set, if not shortly after–of eReaders and computers, video games, television, movies, 3-D entertainment and all the rest, it makes one think about the importance of literature and all that we're losing as we let children spend more time playing Pokemon, watching whatever it is that children watch on t.v. these days, texting and "socializing" on facebook than they spend reading a book. Maybe our new eReaders will help keep the younger generation interested in books, so Bradbury's future won't come to pass, but with eReaders already adding web browsers and turning into handheld computers, who knows?
If you're here looking for a summer reading recommendation, please read this book. Not only is there a ton of material in here for you to write an awesome paper for school, but it really does have an important message to share. I think this is a book that everyone should read. If you've already read it, read it again and think about the world today and the world between its pages. How different is our reality? Not different enough, if you ask me.
Check out Ray Bradbury's website!
Read it? Rate it!