Tuck (King Raven Trilogy #3) by Stephen R. Lawhead — 9781401685393 – ****
Genre: Fantasy
Time to Read: 11 Days
Short Summary:
In this conclusion to Stephen Lawhead's King Raven Trilogy,  Bran ap Brychan (aka Rhi Bran y Hud) and his comrades travel to meet with his kinsmen in hopes that they might help him and his Grellon reclaim his kingdom while Lady Merian–going against Bran's wishes–does the same and Abbot Hugo seeks to purge the forest of the King Raven once and for all. Tuck–named for the fat friar who is one of Bran's closest advisors–is full of adventure and peril as the King Raven and his men struggle for their lives and their homes, tricking their enemies in true Robin Hood style along the way.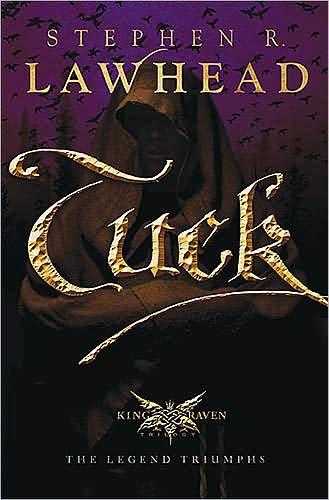 I must confess that this third novel in the King Raven Trilogy was a slower starter for me than the others. It once again shifted point of view and–after my initial uncertainty upon starting Scarlet–I found that I missed Will Scarlet's narrative voice (It was not, however, in the Friar's point of view, instead returning to the third person that Hood was written in). I also have to note that it began to feel a little long toward the end, which may be in part because I haven't committed to a series in some time, and I was ready for a change of pace.
That being said, however, Tuck was an extraordinary conclusion to Lawhead's re-imagined Robin Hood series. Too many series that I've read have had unsatisfactory endings or ones that were too neat, like a glued jigsaw puzzle. Tuck did not let me down, and it left me wanting to visit more of Stephen R. Lawhead's books in the future.
(Please forgive the delay in my posting of this review. My new eReader makes it too easy to move on to the next book, and I quickly get lost in it and forget to blog! I promise to get better. There will be two more coming very soon!)
Check out Stephen R. Lawhead's website!
Read it? Rate it!