Live and Let Die (James Bond Series #2) by Ian Fleming — 9780142003237 — ****
Genre: Spy Novel
Time to Read: 10 days (Over the holiday season)
Short Description:
007 is back in action! In Ian Fleming's second book in the James Bond Series, the FBI has asked for Bond's help in uncovering a smuggling operation. Mr. Big, a big-time bad-guy in Harlem with a shipping business and property in Jamaica and ties to voodooism, is suspected of smuggling Sir Henry Morgan's long-lost loot of gold into the states in an illegal operation. The FBI is hoping to use Bond's expertise, and his familiarity with Jamaica, to uncover the plot and put an end to Mr. Big's big-time quest to become known as the first major black crime lord in the United States. Mr. Big's own people fear him, believing he is the zombie of Baron Samedi, voodoo spirit of death, which allows him to keep them under his thumb. His network of African-Americans in Harlem and all over the USA helps him keep an eye on everything that is going on in his world, including the arrival of James Bond, and his possession of the beautiful and magical Solitaire helps him know when he is being duped. When Solitaire reaches out to Bond for help, he gains his source of information and his motivation to put a stop to Mr. Big once and for all.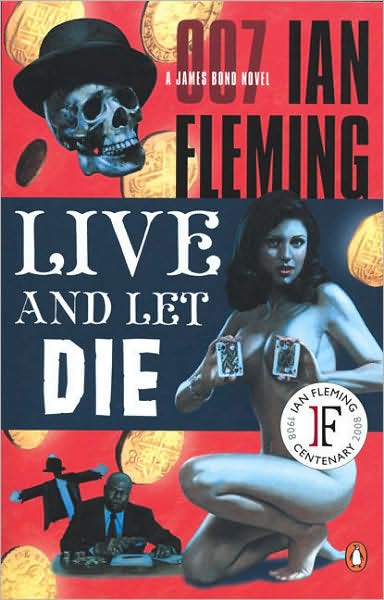 Live and Let Die is one of my absolute favorite James Bond movies, and although the book isn't quite the same, it certainly doesn't disappoint. In fact, I wish the movie followed it more closely. Mr. Big and Kananga's opium smuggling is a worthy challenge for Roger Moore as 007 in the movie, but I'm not so sure that it tops, or even compares to, Mr. Big's pirate gold smuggling. Also, Jane Seymour's depiction of Solitaire is legendary, but the character in the book is far more likable. She's smarter, gutsier and more seductive than the movie's innocent depiction of a very different woman by the same name.
The second book in the James Bond series is certainly more full of excitement than the first. Bond finds himself up against a network of people who all operate under Mr. Big's direction out of fear of his voodoo ties. He swims with hungry sharks, gets in a shootout in a wear house full of tanks of poisonous tropical fish, and is nearly bested by the big man and his men. There are enough differences between the book and the movie that even a fan of the film will be caught wondering how it will all end, and it's exciting enough to keep the pages turning without the slower start that its predecessor Casino Royale displays.
One word of caution: This book was published in 1954, and political correctness wasn't in fashion. As a result, Ian Fleming uses an outdated term to describe the African-American characters throughout the book. It is used descriptively, much like modern writers might refer to a woman as a blonde, and isn't intended to be demeaning, but some may find it objectionable. Beyond that, the material is safe for an audience looking for a fun adventure with a little bit of "naughty" teasing on behalf of the sensual female love interest. I highly recommend it to fans of any of the Bond movies, and to lovers of action, adventure, and spy themed novels.
Check out Ian Fleming's website!
Read it? Rate it!