The Lost Gate (Mithermages Series #1) by Orson Scott Card — 9780765526577 — *****
Genre: Urban Fantasy
Time to Read: 4 Days
Short Summary:
Danny North is a normal thirteen-year-old boy, which would be all right if it weren't for the fact that his parents are two of the most powerful mages to be born in his community in many years. His people are decedents of ancient gods, but their magic is waning, and his people had hoped that Danny would prove even more powerful than his parents. Instead, he is a disappointment, showing no talent for magic at all. Now, Danny is condemned to a life of ridicule, allowed to live only because his parents are the leaders of his community and wish to keep him alive.
Then, one day, Danny discovers that he does have a magical ability, and a powerful one: He is a gatemage, able to create gates that can carry him across the world, or across the universe. He is one of the most powerful types of mages to be born in a long time. The only problem: After the last gatemage stole the gate between Earth and his peoples' home world Westil, his people have vowed to kill any gatemage that is born to prevent war among the clans and further trouble from one such mage.
After escaping from his family compound, Danny must find a way to live among humans while he learns how to use his newly found abilities to remain one step ahead of the family that now seeks to kill him.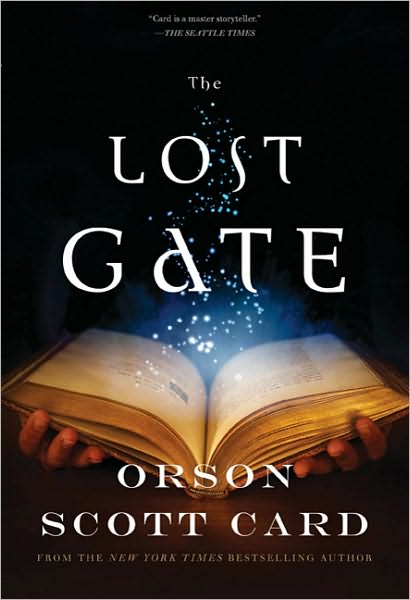 This book drew me in so fast that I hardly knew it was happening. I've never read an Orson Scott Card book before now, but I expect I'll be giving some others of his a try while I wait for the second book in this series to come out. The Lost Gate was amazing, addicting and powerful. It was also an easy read. The words flowed as if caught in a steadily increasing current from beginning to end, then the story left off at the brink of a waterfall.
Orson Scott Card's characters are excellent, Danny's world within our world has an undeniable realness to it, and the side-story–which seems a little strange at first–gives us a glimpse of things to come. This is one of the best books I've read in a while. It is clear to me that it was written over years of planning and plotting by a seasoned master in the art of the fantasy novel.
Check out Orson Scott Card's website!
Read it? Rate it!