Casino Royale (James Bond Series #1) by Ian Fleming — 9780142002025 — ****
Genre: Spy Novel
Time to Read: 4 Days
Short Description:
Meet James Bond, British secret agent with a double-O license to kill. In his debut novel, James is facing a man know as Le Chiffre. Monsieur Le Chiffre, the treasurer of a Soviet-backed trade union in France, is in a bit of trouble. After losing money that wasn't his on poorly timed investments in brothels that were then shut down by new laws, he needs to repay SMERSH (An organization that is out to kill non-Russian spies) before they come to collect. His solution: Call a Baccarat game at the casino in Royale-les-Eaux, France and try to win back the money at the table. James has been tasked with going up against Le Chiffre and bankrupting him so he will fall further out of favor with SMERSH and be wiped out by his own organization. With help from René Mathis of France, the CIA's Felix Leiter and MI6′s own beautiful agent Vesper Lynd, James  is ready to face Le Chiffre at the table, but can 007 beat him at his own game?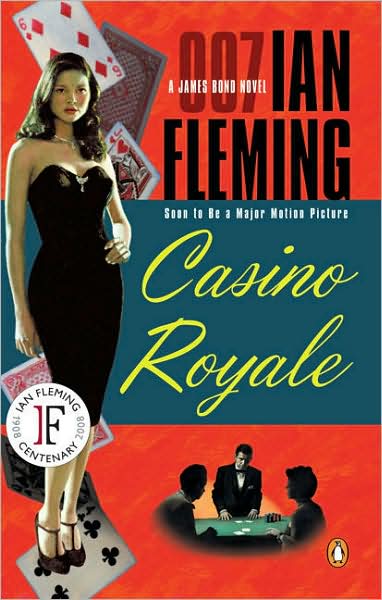 I have been a fan of the Bond films for years and, despite the fact that the books are almost always a million times better than the movies based on them, this is my first time reading a Bond novel. Ian Fleming's Casino Royale doesn't disappoint. The first installment of the James Bond series is full of adventure and intrigue. Bond's first challenge in the series doesn't sound all that exciting upon first inspection. He's playing a card game and hoping to bankrupt a failed entrepreneur into oblivion. Then again, France and America both have people in on the job, and MI6 is willing to risk 20,000 pounds (a fair sum in the late 1940s, early 1950s), so Le Chiffre must be a pretty worthy opponent, even if they're just playing at an all night card game. In fact, when Le Chiffre's henchmen get involved, James's female counterpart gets herself in trouble, and 007 finds himself in the hands of Le Chiffre, himself, things get downright exciting. Despite its length (not quite 200 pages), this little book is packed with enough action that I feel justified in calling it a novel, even though it is probably only considered a novella.
There are only a few small drawbacks to this book. First, Ian Flemming goes into careful detail when writing the reports M reads in the second chapter of the book, to the point where things can get a little confusing with all the code numbers and acronyms that he explains after the fact. Second: There is a fair amount of French interspersed in the dialogue in some scenes that isn't necessarily translated 100% of the time (if you know basic French, this won't be a problem, and if you don't you'll understand enough from the context that you won't have to stop and find a translator, but I can imagine some might find it a little flustering). Finally: Le Chiffre causes horrible damage to a very nice car during a chase. I found that scene quite distressing.
I should also mention that, although Ian Fleming's Bond movies give the impression that the books are full of naked women and raunchy sex scenes, this novel was published in 1953. I'm sure that it was quite racy for its day, but today it would be considered mild at worst. There are some references to sex, but nothing I would imagine that the parents of a middle teen would cringe at. Just simple statements and a little smooching. I would feel comfortable recommending this title to a 15-year-old boy without fear of parental anger after the fact.
I can't let this review go by without making some comparisons to the 2006 movie by the same title. This is probably the first novel I've come across that has been made into a movie that has taken nothing from the story, actually adding things in to increase the length of the film. Unlike most books-turned-movies, I still like the movie after reading it. In fact, reading the book made me want to watch the film again just to confirm the fact that nothing was taken out (I still haven't found the time to do so, but I'm confident enough to state this as a fact, anyway). A fan of the Bond films will find this one a great introduction to the book series, and I highly recommend that viewers take the leap and join me in becoming readers, as well.
Check out Ian Fleming's website!
Read it? Rate it!